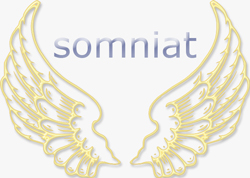 The light is so bright
it blinds us;
it hits one spot first,
and then another over there,
and then one more,
and then yet another –
until the entire room
bounces and glistens
with sparkles and gleams;
so much light
down here so deep,
it's as if world had turned
inside out.
Ah, and what we see,
everywhere up on that ceiling
that has lain so black for so long
is now nothing
but bright, shimmering, capricious stars
that float and burn in a multitude of colors,
chartreuse and teal,
gamboge and ecru,
azure and cyan,
amaranth and crimson,
magenta and cerise –
blinding out the blackness;
and these stars, they dance;
they caper across an infinite space
in a joyful frolic, a prance –
not just above us
but all around us,
an endless milky way of stars;
so that even the wingless dragonflies
stop ventilating
and their nervous trigger fingers
relax.
And I see it there,
a constellation that strums
the strings of my heart
and plays a tune
in the form of angel;
a secret message
that points me toward
the promenade,
so that now I know
where she's gone.
I'm not really so far,
and there's still a small crack in the shutters,
so with everyone looking up,
I slip back, a few steps,
and then a few steps more,
and then I'm through,
and then I've shut the final shutter,
and then I'm alone
in the promenade
that slopes up
toward where my angel
has gone.
by matt at shadow of iris
---
Ebony, a poem
, follows next.
Somniat
begins here in
the poem, underground
.