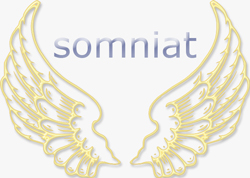 chrysocolla, somniat 25
somniat 25
A hydrated copper silicate material;
blue-green — the color of an inland sea
up high on a mountain;
glue for soldering gold;
quartz, limonite, azurite, malachite,
and cuprite;
smooth and shapely, showing off their contours,
a world in world from deep within the earth;
all the rocks around me hum,
a tune of waiting written into the ripples and waves
of their multicolored layers
that now vibrate
and trill out a secret message
from a time before time.
My angel arrives with a white kit and a red cross
that she places on the ground next to me;
she has a glass of water and she hands it to me;
she opens her kit and finds a small bottle
of tiny white pills;
she twists off the cap and pours out two,
take these, it'll help you.
The pills are bitter and bite my tongue,
where they cling with small insect like claws,
and even before they've been washed down
by the lukewarm, tasteless water in the glass
my heavenly nurse is at work again
drowning some cotton in a clear liquid
that reeks and bubbles with a pungent acidity;
mere moments afterwards she is hovering behind me
applying her evil mixture
so that my entire skull feels afire
as if it were coming apart,
my soul leaking out
into the world.
With nimble fingers, she takes white gauze and tape
and sets to work at plugging me up;
her hands come back, red with my own blood;
she forces a smile and her eyes nearly twinkle,
as she says,
you're as good as you'll ever be,
we should get going.
My angel disappears briefly
but is soon back and fully prepared;
she has on a slim backpack
and holds a wide eyed flashlight
that glares at me and makes me blink;
my celestial savior reaches out her hand
and I take it;
her hot energy pulsates once again into me;
her soul replenishes me;
so I stand and think that I'm fine,
but almost immediately my whole world reels
as blood rushes to my head
and everything begins to blacken out
to angel shouts of breathe, breathe!
Poison and disease;
illusion and reality;
dreams from which there is no waking;
I must be gone only seconds
for when I come back, I'm still standing,
and my angel with hands of steel is balancing me
under my arms
while looking up at me with eyes so large
they hold all the blackness of space
and the hope of the stars;
you can do this,
she assures me,
you can do this.
Perhaps the pills she gave me finally kick in,
or maybe its my faith in her
that rises to a new height;
either way, my head begins to clear,
as I realize the air I breathe is tinged
with the sweet, perfume smell of her;
so much so,
that I want to lean in,
perhaps to steal a kiss —
but something she told me
once before I met her
comes back to me,
a story of dreams and drugs and disease
and a world yet untouched, begging for mercy –
for a few seconds, I remember.
I stand up straight and steady myself,
there's still a way to go;
I smile at my angel for the first time today,
as I tell her, thank you.
by shadow of iris
---
Monster, a poem
, follows next.
Somniat
begins here in
the poem, underground
.