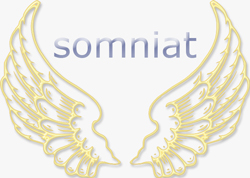 The train finally passes, and we are left
in what should be the dark;
but even though my angel's wings have folded back in
she still casts a faint pale blue glow,
and I watch as it slowly fades
and the shadows overtake us.
I realize then for the first time
how close we are,
and the icy coolness of my angel melts
into the feeling of her warm body
pressed up against mine,
her head against my chest
as she whispers,
I'm sorry,
I'm so sorry,
but we had to run.
You saved me,
it's my voice but it's faraway,
I should have gone to you when you fell,
I should have tried to help you.
Then she does it, and it's ever so slight,
a breaking of the rules, I'm sure,
the smallest of kisses on my cheek
before she breaks away from me,
so fast — I wonder at once
if it ever really happened,
then she speaks ever so softly,
puffs of warm air on my ear,
you'll save me yet,
you'll save us all.
Our nearness ends completely,
as she moves away from me
and I begin to hear her fumbling about in her bag;
the one she'd slung on her back
when we'd left the shop of rocks
and moments later
she is switching on a small penlight;
not as good as the one I dropped,
but it'll do.
She puts her hand on my face
and pries open my eyes, shining the light in;
it burns and I begin to tear,
then she checks the rest of me, methodically,
I touch my face where she has touched me
and it comes back viscous and red;
you're bleeding, I tell her,
and I look at her hands covered in scratches,
but it is her torn shirt that catches my attention,
there is a wet shadowy growing splotch
just over the stomach;
she sees where I am looking
and looks there herself for the first time,
she touches the wound beneath and winces,
she stares forward for several seconds
and then begins to tremble,
her eyes water
and she becomes uncertain.
I put my hand on her chin
and lift it so that her large eyes are on mine,
you're an angel,
I saw your wings,
they were a bright burning blue.
She looks aside thinking,
then back at me,
and then she nods,
okay, okay,
let's go then, we'll do this.
I just want to know,
I just know the truth,
we're not looking for the way out, are we?
She shakes her head.
And I ask it, the question,
where are we going?
She answers,
home.
---
Passages, a poem
, follows next.
Somniat
begins here in
the poem, underground
.