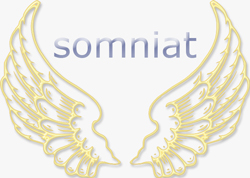 It's cold up here,
why did we come up here?
I shiver;
the world stretches out before us;
up here, above the valley,
the entire city is swallowed up in shifting shadows
that play among shimmering city lights;
all of it radiating the illusion of a profound serenity;
and farther out, there is only a sea of blackness
that reaches out and touches the night sky, alive with glimmers,
distance specks of radiance that dance to a passacaglia
as they call to me and ask me to come home.
The angel wraps her soggy blanket more snugly around us
then in her strong, melting arms, she holds me closer,
I can't remember, I had an idea;
didn't I tell you?
I sink deeper into her,
you wanted to show me something,
maybe it was the stars,
they are beautiful.
I feel her warm breathe on me,
No, it wasn't the stars;
it was something I saw the other day,
only I can't quite put my finger on it now;
she smiles and looks at me, her face so close,
are you okay, you don't look well?
I think we're dying, I tell her,
only I can't remember why.
She looks down for a minute,
and then back at me;
I drown in her eyes, as she sighs,
I don't know, but if it's true,
then I'm glad we're together;
I don't want to die alone.
It's then that I look out,
and I see it far off in the east,
a burgeoning orange radiance;
the entire sky suddenly a deep bruise,
look!
We flow into each other,
she let's out a small gasp,
that's it,
that's what I wanted to show you.
I begin to cough, and I can't stop,
then I start to shake, uncontrollably;
the world swirls around me
and I'm not at all sure where I am,
the only certainty is the warmth
of the angel that holds me
as she strokes my hair,
no, Adam, just a few more moments,
I don't want to see it alone,
I want to see it with you.
I try to control my breathing,
to hold myself in stasis, to focus,
because I know that this is it –
and then I see it,
the brilliant rays of the sun coming up
over a range of mountains in the east;
its glow reaches out to me
and pulls me to it,
so beautiful, so, so beautiful.
I turn toward my angel
but she is no longer there;
she has taken to the clouds;
she flies, her wings extended
into their full golden glory,
and she is not alone
shades of amaranth and sapphire follow her;
she sweeps down in her new found freedom,
and then back up toward me;
until she is right there, hovering in front of me;
she reaches out her arms and I fall into her;
she pulls me up, and holds me once again
as she sweeps me into the sky
and takes me home.
the end
---
Somniat begins here, in
the poem, underground
.