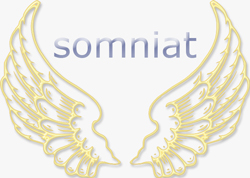 I'm flying;
I'm feverishly taking to the air;
I resist gravity,
and that sensation in my throat that claws
and that hammer in my head that pounds –
they are no longer a part of me
but objects outside of me
that I study in bewilderment
as I run as fast as
my loose and limp legs will carry me;
for every action
there is always an equal and opposite reaction,
this is my fate
and if I am to redeem myself
then my feet simply must carry me
to where even an angel fears to tread
as she frantically pulls me along
toward a destiny
now inescapable.
Lights flicker around us
and there is a hot dry draft
as we tumble over ancient rusted turnstiles
and dash out onto a crumbling train platform;
I don't bother asking
why up isn't the way out,
why moving into the mouth of danger
is better than moving away from it,
I'm too busy flying
and experiencing a rush
I have not had
since back then –
somewhere else,
sitting on that old, worn bench,
my hands inserted into a fume hood
as they mix processed solutions
in gleaming assemblies of blown glass
to the hum of exhaust fans
and the hiss of boiling water;
spontaneously a thought occurs to me,
Melpomene whispers in my ear
as I hit upon it,
the right chemicals in the right proportions,
and then all at once,
I've done it,
I hold in my hands
a power great enough
to change the world –
but it wasn't the world that changed
it was me.
Somniat.
We run down the platform as far it goes
past old graffiti, rubble and ruin,
and then we are there at the end,
where there is no where to go
except down
onto the tracks
and into the subway tunnel itself;
I stop there and I wait,
even as my angel in a frenzied state pulls at me,
strained lines of tension all along her face
as she wails,
there's no time, Adam,
a train is coming.
A synthetic psychedelic,
an altered thinking process,
synesthesia,
inter-dimensional perception,
an adjusted sense of time;
and all of it
ahead of its time;
properly proportioned –
delirium and delusion,
visions and insanity
boiled down into
a compound easily combined
with bacteria or viruses,
so that with the proper biological agents,
a weapon
of unmatched strategic usability;
the implications were obvious
and the monetary consequences
even more so.
It's my voice
but it's far away
and it's cracking:
It was me,
I killed them,
I killed them all.
My angel shakes her head,
she is crying and frantic,
You're hurt,
you've hit your head,
you don't know what you are saying,
and a train is coming;
we don't want to be here when it comes;
there's a way out –
a way out for you
and way out for me,
please!
My feet feel like lead,
my throat burns,
and my head is throbbing,
but I nod;
in a state of complete numbness,
I let my angel help me down
off the platform and onto the tracks.
Hurry, she rasps;
we run into the tunnel
and I don't know where the light has gone,
my angel's little light,
but we run in the pitch black, straight forward,
my angel's hand all that guides me
from whatever lurks in the thick opaque shadows.
Then it all happens so fast
and yet with such a steady and sure momentum
that I am positive it is predestination,
a moment of time determined
at the beginning of time.
My angel stumbles and falls,
her hand leaves my own
and viscerally I cringe
as I hear her sliding against concrete and gravel
finishing with a thump against a wall;
and all at once, in the distance,
coming from around a curve in the darkness
I see it,
a pinpoint of light at the end of the tunnel
moving inexorably toward us
growing bigger by the second;
out the sides of my eyes
I see my angel, off the tracks,
lying crumpled against the wall of the tunnel,
a broken rag doll.
At first, I back away, slowly,
but my heart floats into my mouth
and the fear is so great in me
that I stop completely
and wait
for the approaching sun
to swallow me whole,
to purge me
of my sins.
---
Destiny, a poem
, follows next.
Somniat
begins here in
the poem, underground
.