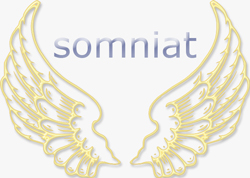 Rain beats against my face
and wet pellets sting my arms and legs;
I hover in a space
that is not a space,
where absolute meets abstract;
I float above the golden wings of an angel
that spread out
toward the end of eternity
to a place where reality meets dreams
and bends.
Out of the swirling mists of the sky
I see faces both old and new
and they ask me questions
for which I have no answers;
a plurality of possible me's
that could have been
woven into a möbius strip
that we glide upon
never reaching an end.
The wind howls in my ears
and pulls at me in every direction
until I am flattened and elongated
floating outside of myself
and watching me fall, paper thin;
answers play on my mind
but they only yield more questions,
regression, mind dialysis,
something I thought I knew
until it got left behind;
the touch of God
breathing life into me
only so that I might suffer
for just one more answer;
a war that pulls me apart
and sets me aflame;
the ashes, swept away
in the rain.
We smack the water
with such an unexpected violence
that it sends tremors through me,
vibrations that shatter my feet like glass;
before we plunge
down
deep;
I gasp for air and all I get is water,
but even before I can panic
she's curving us upward
but not fast enough
so that my shoulder slams something hard
and then I'm wriggled about
twisting in ways I can't explain
until I see through the bottom of the world
deep down into hell
where wild winds stoke long flames
that lick across the entire length of the hotel;
fire trucks retreat, having given up;
police cars search for a way out
through roads crammed with fleeing military trucks;
people rush from the building and into the streets,
hither and thither, helter-skelter,
a swarm of deserting ants
that topple over one another in their panic.
Before any of the blurred images can congeal,
I am suddenly swept up
into the arms of a warm lover
that works with a silent determined fury
to unravel straps and buckles
that have tangled around us both;
then holding me close and tight,
she pushes against the sky, itself,
and thrusts us up
so that we burst through
the surface of the water;
and even as I flail my arms
coughing and gasping for air,
this angel calmly wraps a strong arm around me,
and leans me into her soft chest,
then with her free arm
she strikes into the water
her legs propelling us forward
across the long length of the pool;
I relax into it,
her steady stride,
I close my eyes and feel her strength,
her mercy,
and when I open them again,
I see upward, to an opening in the clouds
that reveals the stars;
and it's then that I notice her
hovering near,
a sapphire shadow
that whispers into the breeze,
you see, I promised you,
now, don't be afraid,
you're almost home.
---
Stars, a poem
, follows next.
Somniat
begins here in
the poem, underground
.