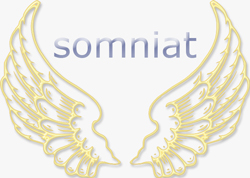 Walls of ancient crumbling slate gray bricks
line the once makeshift, narrowing passage we are in;
we see little because our light is meager
and for a moment I half imagine
we are confined in a tapered tomb
somewhere lost, deep under the earth
but before any panic can set in
I feel the breeze, and I know at once
where my angel has taken me;
this is the way to the caves.
At that she takes my hand,
and I don't know if it is for me or for her,
because I don't know who supports who anymore,
my angle's hand is wet, and its warmth is fading;
we clutch at each other with such need
that it is something almost lascivious or obscene;
she leads me away from the subway tunnel
toward the opposite end of the constricting corridor,
and it doesn't take long at all
before we step out into a wider world
of darkness, and this one rough hewn;
the breeze is a little stronger here;
its scent fresher,
and there is a sound in the air,
a laughter I can't quite catch,
something distant,
something forgotten.
At first as we walk forward
all I can see is the ground immediately around us;
everything else dissolves into a pitch blackness;
there is this sense of moving along
in a place of dimensionless space,
all that exists, us;
all the propels us forward, our thoughts;
we begin to pull in closer
so that our shoulders rub, and without thought
our arms grow entangled,
even our hips attach;
an unnatural bond forms around us,
between us;
we have become symbiotic;
my angel's thoughts have become my own;
they are a gentle rain
falling across a cobblestone street
in a small, antiquated town
on a balmy afternoon,
where young children run about,
as they laugh and play in the drizzle,
unsuspecting
what each drop contains –
a cold day follows.
Chills go up and down my spine;
through my angel
I feel an involuntary revulsion
at my own touch;
I let go of her hand,
I've contaminated it
with my old sin;
the somniat,
I whisper.
We stop in our tracks;
she is not fazed, but knowing,
I'm bleeding;
it would have happened anyway,
maybe it already had;
it just means we have less time,
come on;
she puts out her hand,
take it,
we have to go –
there is still a long way,
she waits
and except for the breeze's girlish laughter
for several long moments
there is nothing between us;
then she looks at me
and confesses her own sin,
I need you.
---
Black, a poem
, follows next.
Somniat
begins here in
the poem, underground
.