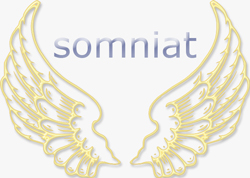 When the angel pulls me from the pool
I'm almost lifeless;
the world passes me by only diffusely;
she places her lips on me,
they are doughy and hot;
she breathes life into me,
then she massages my chest;
finally she slaps me hard in the face
until I murmur,
stop.
She almost but not quite laughs;
she throws me over her shoulder
like the used up ragdoll that I am;
then she runs,
a mad dash across wet pavement
that glows in eerie shades of claret
so that in it I see
reflections of devils and demons;
I close my eyes
and feel my angel dip down low,
wiring scrapes across my back
and the ground below my angel's feet
shifts from from a hard solidity
into an empty metallic echo;
I open my eyes but for a mere moment
and I see through rusted iron grating,
down below, to a rain of fire
that falls across endless chaos;
soldiers abandon their trucks and run
along with a host of others,
all of them scattering, like lost filaments
on reverse course from a magnet.
My angel sucks in dense air
and blows it out again,
while her legs pump,
like pistons in a steam locomotive
they churn, a destiny unto themselves;
then finally she leaps
and I feel us cross a chasm in time;
then we hit hard dirt
and we lose one another;
I'm left rolling
across the side of a wet mountain
and when I stop,
I dare to open my eyes again
as I hear cables begin to snap
and I see the bridge,
the entire structure the pool was built upon,
beginning to gyrate wildly
until it breaks away from the mountain,
all the remaining cables snapping at once
as it drops in a mighty swing
toward the flame engulfed hotel
where it smashes into its center;
the hotel leans forward
and mysteriously holds for another instant
before it completely crumbles forward
pouring out concrete, iron, and flames,
that fill the streets below
in a miasma of horror.
I lean back and stare at the sky;
the clouds have cleared
as if they never were,
and the stars light up the sky;
I wonder what it might mean
that I've come this far
that I am here now
on the mountain;
I feel its strength below me,
its eternal presence flows into me
and accepts me;
before any of us, there was the mountain;
and when we are all gone,
there will still be the mountain.
There is first one
and then another,
goggled eyes that peer into me,
fingers that begin to prod me,
whispers and then shouts,
frantic exchanges of words;
someone leans in close
and she has sad familiar eyes;
with her black gloved hand
she strokes my cheek
and tells me,
you've come home, Adam,
you've come home.
---
Stranger, a poem
, follows next.
Somniat
begins here in
the poem, underground
.