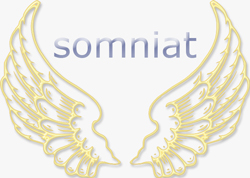 Out of nowhere
there is an intense burst of fluorescence,
an amaranthine shimmer,
and from behind the girl from the men's room,
streamlined wings,
narrow and muscular,
sharp and sublime,
spread out with an incredible momentum
and then flap into an inward curl
that lifts her feet
just barely from the ground
giving her exactly the right jump
as she pirouettes out of the corral,
a ballerina with jet black lanky hair
that whips around her face;
she pivots behind a soldier
with such speed and subtlety
that even before he knows what has happened
she has plucked the tube from his mask,
taken his rifle from him,
and knocked him on his ass;
then with amazing alacrity
she chambers and adjusts his rifle,
puts it to her shoulder,
aims at the east wall of latticed crystal glass
and seemly fires at random;
several shots ring out
one after the other,
glass is shattered
and slivers of fragments
shower the lobby floor below,
in a dangerous flutter.
Almost immediately following her act
automatic rifles fire in a heavy repeated thumping
that clenches at my gut and twists it;
and then she, this beautiful violet angel,
folds back her wings
and I see now that she is riddled with holes;
she drops her rifle
and stands there a moment
as if impervious
to the red leaks she has sprung;
her eyes glimmer in a glow of cerise
as they catch my own,
and for a splinter of time
that extends itself outward
across infinity
she holds my gaze and implores me;
and then she falls,
a crumpled mass upon the floor,
her life, bleeding out of her,
even as her soul of amaranth
fleetingly flutters
and then escapes upward
into eternities hidden in shadows
that my eyes cannot follow.
Nothing appears to have changed at all;
except that there isn't a single person that moves;
every individual stands utterly still
and tries to fathom what has just happened;
then before the first person begins to breathe
there is a strange wounded, stuttering noise;
and everyone's gaze turns to look
outside the east wall of latticed crystals
where the helicopter that had been hovering there
is now not only smoking
but twirling in erratic circles,
a massive wounded bird
that slowly closes in on us all;
then jaws drop
as it smashes through
the east wall of latticed crystals
and into the cavaedium, itself,
where now flaming it begins to flounder
in uneven jagged eddies
until at last it smashes
directly into the south wall
where it bursts into a ball of fire;
shrapnel, debris and flames shower down;
but the skeletal remnant of the helicopter
holds its place on the south wall,
stuck, it defies gravity
for a stretched out wink of time
before it eventually breaks free
and falls with a scrapping, scratching plunk,
onto the floor of the hotel lobby,
where its flames immediately spread out;
a splattering of sheering hot blazes.
The tenuous insect order
that had been threatened all along
finally breaks into a thousand tiny shards,
an ant hill that's been turned upside down;
the corralled off hotel workers and guests break free
in a screaming wild panic,
soldiers begin to shout and shoot at random
at what I can't even say,
everyone seeks safety
but where and what and how;
I look forward to see the general
now stands with a long piece of shrapnel
sticking out between his neck and shoulder;
he falls to his knees
and then onto his face
directly in front of me;
his subordinates break off
running in different arbitrary directions,
their protective suits smoking
from random flaming fragments.
My eyes latch onto the elevators
not far from where the helicopter crashed,
at the base of the east and south walls;
I step forward,
and I feel a shooting pain in my leg;
I look down
and I see a small smoldering piece of shrapnel
coming directly out of my right thigh;
I wince and take a deep breath,
then limp forward, each step slow and methodical,
deliberate;
time whirls around me as dancing flames spread;
panicked people dash away from where I go,
some of them set aflame;
I feel something grab at my left foot
and I look down to see spiteful small eyes
glancing up from behind broken goggles,
I shake off the hand, and watch as it falls,
then go forward;
something large turns over
and spills out dancing serpents of flame
that slither out near my feet
so that I can barely pass through,
but bathed in a sleek sweat
and with my left thigh throbbing,
I make a final dash for the elevators
before the way is closed off completely,
and then I am there,
in front of one of the elevators,
and as if it had been waiting for me,
the doors slide open;
soldiers dash out, almost toppling me over,
but once they are away I step into the elevator,
then turn forward and press two buttons,
one for the pool floor and the other for the very top;
the doors slide shut;
I feel a sudden lurch
as the elevator jostles to a start,
and begins to move
up.
---
A floating pool, old clippings
follows next.
Somniat
begins here in
the poem, underground
.