Are you looking for some creepy poems? Fantastic! You've just stumbled across the creepiest poems anywhere!
We think creepiness is a topic well worth exploring—and what could be a better way than via some creepy poems. Whether you want to write a sinister sonnet, an eerie epigram, or an ominous ode, perhaps it's time to let your macabre muse run free. There's no end to the creepy poems you might dream up. Now, it's time for us to share our own creepy poems with you, so read on!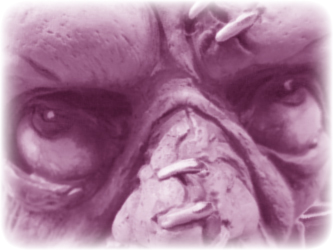 Creepy Death Poem
Death is a topic that creeps us all out, and it can't be left out of any collection of creepy poems. So here is our creepy death poem complete with chilling couplets.
Lifeless
by Hans Zoffer

My heart has descended into an evil thrill,
In that place where she now lays still;
Can there be at least just one wicked way
To bring my lost love back to the light of day?

Am I really so pathetic and so weak,
That a powerful demon I will not seek,
Out there in the wastes of the west,
Where the sands shift and never rest?

Oh, to one more time your beauty drink,
Just the thought brings me to the brink;
If you could but just one more time come,
It would bring my petty life to its final sum.

It is time to give into the darkness of night;
It is time for me to rise up to my full height;
More than your moody memory I desire to keep;
So I must find a way to wake you from your sleep.

I will find a way to bring you back to my side;
I will risk all tonight, down to my very hide;
I insist you will be with me on the next morn;
For in blood and in magic you will be reborn.

I stand here where your lifeless body lay;
I call on evil demons to show me the way;
Deep into the lowest rung of hell I can see;
And there I grasp this most evil mystery.

All for one last lingering kiss but sweet,
I'll bring you back once more complete;
The clouds deeply rumble in the night,
The lightening makes such a frightening sight.

You shudder, cough, and now you breathe,
Oh, but your wide eyes, they do so seethe;
No, please, don't look at me that angry way—
I only wanted to give you a brand new day.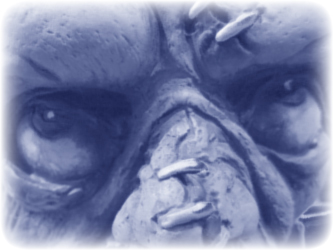 Creepy Food Poem
Can you smell the scent in the air, just what is it? It is a bit creepy, isn't it? And so is this creepy poem about some frightening food! We hope you haven't just eaten.
Bon Appétit
by Sue Flay

It's an unclassified specimen,
The likes of which I've never seen—
It's bits and pieces of unfinished bodies—
In the phantasmagoria I can make out
Singular body parts, and I place them
Across my plate, then watch with surprise
To see that they move in reflex agitation.

Prehistoric, mutant, queer blobs
Of slick slimy substance
That catch upon my spoon and drip;
Bloody globs of gelatin that fall
Quiveringly back into the bowl—
A whiff in the air of unfamiliar spices
With putridity blended nicely.

You're eyes are smoldering
As they look up at me devilishly;
Don't be so full of accusations,
After all, a delicacy is a delicacy,
And your eyes, well, coldly gelled
They'll go down so nicely,
If only you'd just stop staring.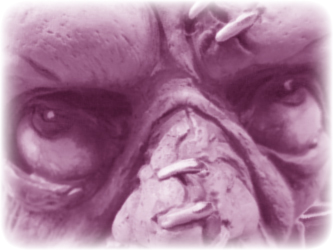 Creepy Stalker Poem
So what do you think of our creepy poems, so far? Now, if you think there could be something less creepier than a spooky stalker, this creepy poem will teach you otherwise.
His Creepy Smile
by Wonda Farr

He smiles most when you are breaking;
He smiles more when you feel low;
He smiles in the evening on the street,
And he smiles through your window,
late at night, while you sleep.

If your dark day is full of sadness,
Then to him it brings a kind of gladness;
And if you work so hard and so long,
To his lips it brings a sort of pleasant song.

So you think your safe in your slum;
But don't you worry, he'll soon come;
His creepy smile will cut your heart,
And you'll wish you were so far apart.

Careful not to ever let him find you erring;
For this will make him all the more daring,
He wants your melancholy soul to keep,
And he's sure he can get it on the cheap.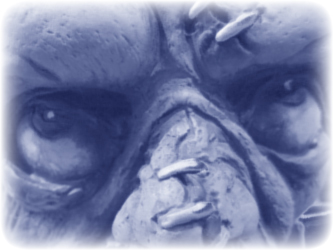 Short Creepy Poems
Now that we've already shared three of our creepy poems with you, we'd like to ask, what could be better than one creepy poem? Five short creepy poems, of course! You'll find that each is a menacing morsel.
i. Phone Calls
by May Pohl

At night, when little Rebecca
Would pick up the toy phone
She would insist that a monster
Was on the other end;
Her mother hid the phone
Thinking this would solve the problem
But it only made it worse;
Forever after Rebecca was certain
It was the monster that had taken it
And that he must be near.

ii. Confinement
by Hugh Jedd

This coy witch, she shrunk me
And confined me in a little place
From which I may never wander;
She made me a tiny trinket
And put me in a small glass cage;
She put me upon her dresser,
So that from there she might gaze;
I'm just a little toy to her,
Lost forever and an age.

iii. Smoked
by Pete Moss

She wore dark effusive eye shadow
And eyeliner so thick her eyes always
Looked sad; her lipstick was heavy
And deep red and always slightly
Smeared; She smoked thin cigars,
And these she never clenched
But always left them hanging
Just slightly from her mouth.

iv. Fangs
by Ivan Edge

Her prattling laughter so annoys me.
The boys subserviently surround her,
And she merrily mucks around with them
As they ferociously fawn over her.
She has fangs,
And she sucks these boys dry;
She leaves a trail of corpses everywhere,
But its her prattling laughter,
That God-awful cackle that so bothers me.

v. Red Ribbon
by Ida Claire

Flowers laced with radio nucleotides,
Small dust that blinks as you sniff;
Thorns held painlessly while bloody tears
Fall onto the blue petals of a withered rose;
A red ribbon falls down from your mouth
Towards the ground where it wells up
A small puddle reflecting a fading sunset
Across the tops of tall vacant trees
Older than time.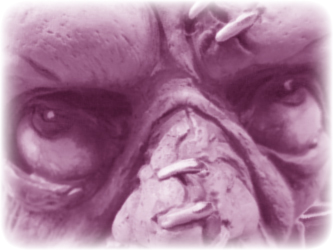 Creepy Doll Poem
Dolls are the creepiest at night alone in a chair, and no collection of creepy poems should be without at least one creepy doll poem, so here is ours.
Bonded
by Paige Turner

It was I who opened the door and let her in;
She's carved of simple and coarse wood;
And, oh my, does she create such a din;
Her smile sets me into such a creepy mood.

She doesn't seem to really like the light
And I have to admit that she me no peace,
For she always stalks me late at night
And from her constant glare I get no release.

She looked so lonely sitting there in the store;
I thought to her, a nice home I could give;
But as soon as I got there and came in the door,
I realized I'd invited an evil spirit in to live.

Each and every night she prays upon me,
I'm stuck inside these four dark walls;
While she twists her neck and gazes lingeringly,
And if I leave, she'll follow down the halls.

Oh, why did I ever let such a creature in,
And to think just a doll could be so lewd;
But now that she thinks she's my next of kin
She wants to make with me a whole new brood.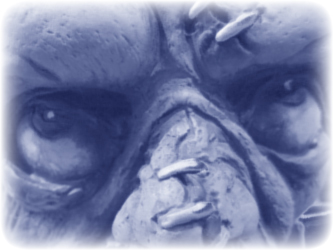 Creepy Love Poem
There's all kinds of love, and creepy love cannot be excluded. Our collection of creepy poems would not be complete without at least one creepy love poem!
Under Your Command
by Barb Dwire

Oh, please put me in these thick iron bands;
Don't you see that I long for your righteous rein,
Any punishment is fine if it's at your hands;
Quick, bind me in your thick iron chain.

Never let me leave your sight;
I'll count each and every hour,
That I subserve under your might.
I want to be under your power!

Let the people quake and quiver all across the land,
Let your word like a god be heard across the seas.
Place upon my wrist that ugly iron band,
Let hot breath come over me like a breeze.

Oh, wrap me up into into a thread and reel,
For you don't know the heavy weight I bore;
Strap me to the endless twisting wheel;
Sit me in a warship to take up the oar.

I'll give my death to you with speed.
Let it go to fly, this black dove.
For your word has been decreed,
And I'll happily sink to death in love.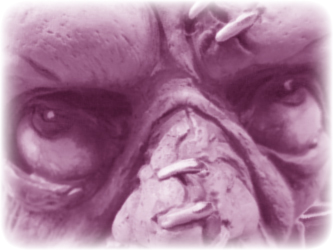 We make up horrors to help us cope with the real ones.
― Stephen King
We really hope you enjoyed all these creepy poems. Who knows, perhaps you'll now feel inspired to write some of your own creepy poems. That creeps us out just a bit, but we hope you go for it!
Finally, what would be really creepy, is if you don't subscribe to our poem updates. Please do so, we wouldn't want you to miss a poem!