What stimulate the imagination more than a remote, barren landscape, where the wind kicks up the dust as the sun sets and fades into a sky that smears into every mesmerizing hue between amber and lavender. Here are some wild poems, completely original, that you will find only on Shadow of Iris. We hope they provide moisture for your muse, and that maybe they'll inspire you to write your own sandy sonnet.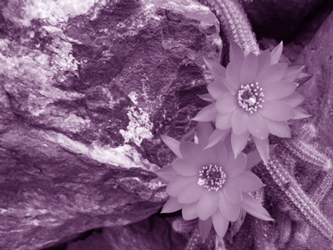 Desert Girl
by matt at shadow of iris
I didn't know at first who'd done it
but out there in that desert
where no one ever goes anymore
someone had grown a terribly small
nearly impenetrable corral of cacti.
That was the year that I spent out there
living in an old, abandoned cabin
under the shadow of a tall cliff
that overhung ancient broken rocks;
I'd go out to that cacti corral each morning
and herd myself in through a small hole
that I'd found under the prickly needles;
then I would just sit there,
and wonder what it was all about,
who'd grown these cacti,
and for what purpose.
Then one morning when I went out there
I'd found that each of the cacti had bloomed
into the most amazing shade of red,
a bleeding carmine that weeped yellow
across a pure azure sky,
a scene so surreal in its beauty
it lifted up my heart and crushed it.
She was there, sitting at the very center,
crossed legged, with her eyes half closed;
she wore the timeless attire of some forgotten era,
feathered accoutrements and green patterned beads:
she was young and pretty and lithe;
she puffed on a small slender reed pipe,
the whiffs of her smoke reached me
with the sweet incense of her breath.
I was there but not there,
and as for whether she saw me,
I suppose I'll never know;
oh, I was desperate to speak with her,
but I couldn't bear the thought
of intruding upon her in her quiet meditations
and subdued revelry;
she was gone the next day
and the blooms were nothing
but fallen petals that the wind was busy
scattering into emptiness.
Out of that entire entire year
that I spent out there in the desert,
it was she and her cactus blooms
that I will never forget
for as long as I live.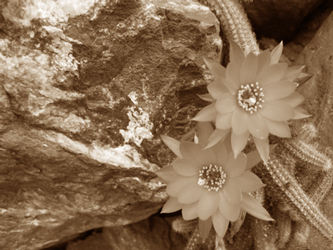 Dry bones
by Isabel Tolling
Ghosts
that have faces
but no eyes
whisper secrets
you thought no one knew.
Nostalgia
tinged with melancholy
about a time that was
but now will never be.
Heavy hearts that sag
and feel the weight
of actions taken
then regretted;
the past, a frozen thing
unalterable.
Places in the heart
lost and waiting;
take my hand
and lead it towards the light—
a truth outside the truth
always lost.
Dry bones
out in the desert
still searching
for fresh water.
I don't know
who you are
so I try to face you
unflinchingly
and to make you feel
not ashamed.
Dry bones
out in the desert
still searching
for some love.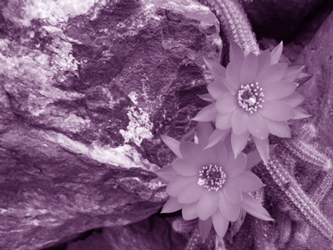 Alone in the Desert, a poem
by Paul Bearer
The desert sun sinks
into the horizon
shedding its last light—
a flaming globe
that leaves an eerie afterglow
on stone pinnacles
and minarets of rock—
a sandstone wasteland
fading into the shadows;
the wind begins to pick up
and as the first stars begin
their glimmering dance
you realize
in this mighty vastness
you are alone.
[This poem was inspired by Desert Solitaire: A Season in the Wilderness by Edward Abbey]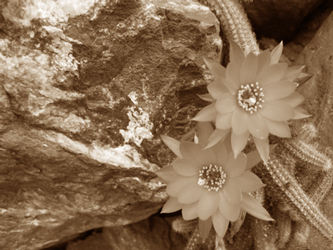 A Balloon over the Barrens
by Gustav Wynd
We'd been in the desert for days,
the sky was sick and overcast
with pale barren clouds that offered no rain
but only locked in the heat—
without the sun,
we'd lost our sense of direction
and our water supply had dwindled
to almost nothing.
The land we crossed was dry and parched,
cracked into intricate patterns
that were interrupted
only by the occasional broken rock;
it seemed almost certain
that our fates were sealed
and only the most irrational of hopes
kept us moving from one moment to the next.
When we first saw it,
we could not believe our eyes,
it was a tiny gray sphere at first
then as it neared, it grew
to immense proportions
until it was nearly just above us,
a massive gray hot air balloon—
There was no occupant
and its flame did not burn,
so we couldn't imagine
how it had stayed afloat, but stay it did.
It hovered above us, and then
it began to move slightly
away from us—
and with no idea as to what else to do
we decided to follow the balloon.
No one could ever explain it,
but by the end of the day
we'd made it across sands to the oasis
we'd originally set out for—
we'd been saved!
The balloon, itself, continued to float
out into the arid desert,
disappearing somewhere
over the dry horizon.
At the camp, and again later
when we'd made it back to town,
we asked everyone we knew
about the mysterious balloon in the desert
but no one could give us any answers,
and people only heard our story
with the greatest of incredulity.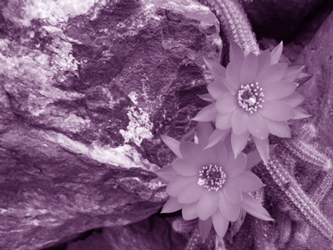 It is not you that move, but the running desert sand,
and beyond, those fluid mountains, loaded range of light
up-steepling through the skull.
— Eithne Wilkins
Well, you made through steep verse and creative canyons. We hope that big mesa up ahead turns out to be your own muse! Remember, you won't catch our next mysterious poem, if you don't subscribe to our poetry updates!