The lion is a wonderful topic for a poem. The lion's symbolism runs deep in all world cultures. People primarily associate the lion with strength, but he can also be associated with justice, power, royalty, and courage. This means that the lion is a potent device for forming metaphors about a variety of poetic topics. While many ancient cultures take the lion to be a creature of the sun, in reality, he is a nocturnal hunter. In fact, for some, the lioness is a lunar symbol. Lions can be seen as both guardians and kings. There really is no end to the room we have for using the lion as a metaphor in the poetry we write.
Here we present two original lion poems. The first is short ballad about a lion-hearted boy. The next poem deals with the recent controversy over a young female lion hunter, who posted the pictures of her trophies onto the Internet. We hope this poem is nuanced enough to only ask questions without providing easy answers. These are original poems about lions that you will find only on Shadow of Iris.
If you haven't already, please don't forget to subscribe!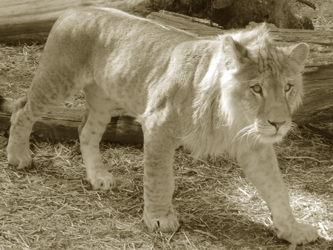 Loose Lion, a poem
by Dustin Down
When the lion escaped the zoo
we were all too afraid
to even get the newspaper
at the top of the drive way.
My father, of course, had to go to work.
My mother watched him ever so carefully,
as he stepped out the door, paused,
looked around for the lion, then rushed to his car.
We hunkered down all that morning
and eagerly watched the news—
finally a report came that there had been
lion sightings in the neighboring town.
At this my mother capitulated
and let us free, so long as we promised
to stay in the backyard.
It had been a long hot summer.
In our bathing suits, we played
in the little inflatable pool for a while,
then my brother had gone to the back door
to ask our mother for something to drink.
Also tired of the pool,
I wondered further into the backyard
chasing a noisy cicada
that was flying from one tree to the next;
it was then that I heard my mother scream,
and the door slam.
I turned around and looked about.
We lived in one of those flat neighborhoods
where you can look down
and see all neighbors' yards stretched out.
I spotted the lion not two houses down
in the Johnson's backyard.
My mother's scream had attracted his attention
and he was now lightly trotting toward me.
My heart caught in my throat—
but the lion did not pounce,
instead he paused a little distance from me
and inspected me.
He was so beautiful,
his face so wise,
his eyes so intelligent—
I so much wanted to be his friend;
but when he roared
it sent shivers through me.
I backed up until I tripped over a hose
and fell.
I then lay completely on my back—
too frightened to move
as the lion strolled over and sniffed me,
then roared again.
I've never been so scared as I was then.
I don't expect I'll ever be so scared again.
The lion barred his teeth, and roared again,
as if he were testing me
to see if I was going to put up a fight.
As I began to cry
I heard the back door open—
and I could just barely see my mother hurling
a large uncooked pot roast through the air,
so that it landed near the little pool.
The lion roared at me again,
raised his leg and peed against a rock,
then went over to the pool and began gnaw
at the uncooked roast—
While he was doing this, my mother
opened the door and motioned for me to come in.
I got up, and giving the lion a wide birth
slowly made for the door.
Once inside, my mother shut the door,
and locked it for good measure.
While she called the police,
my brother and I watched the lion
finish his slab of meat.
When he was done, he roared again,
took few sips from our pool—
then casually strolled to the next yard—
king of our neighborhood.
Even though the lion eventually got caught
and safely returned the zoo,
for nearly the rest of the summer
my mother would not let me out of her sight—
we could play in the back yard
but only if she was there to stand guard.
But my father though,
without my mother knowing
took me to see the lion—
when the zoo keepers heard who I was
they insisted that they let me feed the lion.
I held a piece of meat with steel thongs
and through a little metal portal
I pushed it through,
where the lion grabbed at it
and gulped it down.
When he was done
he sniffed the air in a funny way,
and I wondered if he recognized me
and remembered how he had scared me.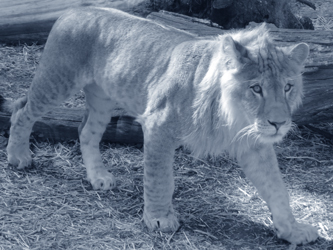 Lady Hunter Protest, a poem
by Marya Ophir
The lion is king,
and he'll make you sing.
He stalks the nocturnal planes
and he seeks what he gains
until now.
Petitions are presently circulating
and change is on the way
so they say—
ban the lady lion hunter,
that's no way to play.
It's a feminist progression
It's a masculine regression—
it's a patriarchal nightmare come to life—
a blond wielding bimbo with a gun
aimed
at the masculine king of the jungle.
She's shoots the lion,
but it's your insecurity
she's really hits.
Affluence and entitlement
parlayed into people's disgust—
hey girl, they say,
go back and and pick up the pompoms,
we liked you better that way.
Self-righteousness has its limits—
and at times,
it's hard to tell the black from the white—
But then again, I have to say,
I see no joy in the killing
of the great maned male.
There is hunting for meat,
and there is hunting for skin
but what good
is that trophy on the wall
without any love
to bestow on you at all?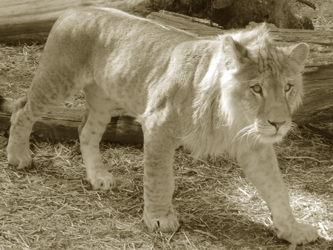 Did you think the lion was sleeping because he didn't roar?
― Friedrich Schiller
We hope you found these poems valiant efforts at exploring the poetic potential of lions. Maybe you will now feel inspired to write your own poem about the king of the jungle. Now we don't want lionize ourselves, but we must say, don't be cowardly — subscribe to our poetry updates so you don't miss our next original poem!