Are you looking for a Mending Wall analysis? Here is mine. I hope you like it.
I want to go through Mending Wall by Robert Frost line by line and offer my thoughts as I read the poem. Whether these thoughts hit the mark or not, I can't say. But hopefully they will stimulate the reader toward their own interpretation of Mending Wall by Robert Frost.
Something there is that doesn't love a wall,
Okay, so this has the feel of a riddle. There is something which doesn't love a wall? What would that be? Do you like walls? What kind of feelings do you get when you think of a wall? Walls are restrictive, right? They hold us in, they keep us back. There are a lot of negative associations with walls, right? But are they all negative? The walls of your home protect you from outside dangers, don't they? Walls help us set up necessary boundaries, which at times we really need. So are walls all that bad?
Frost has only just begun his poem, but he's already given us this riddle about something that doesn't love a wall – and we're left with this really potent word, wall, and all the images it conjures up.
That sends the frozen-ground-swell under it,
And spills the upper boulders in the sun,
And makes gaps even two can pass abreast.
Okay, so what's the answer here? Is it mother nature that doesn't like the wall? Is it time itself that doesn't like the wall? Or is the answer even something deeper? Is there some enigmatic force itself, the force of change perhaps that works on all things, that doesn't like the wall?
I'm not sure this is a question we're intended to answer so easily. But you have to appreciate the way that this deep philosophical question is so breezily given in a matter of fact style.
The work of hunters is another thing:
This line really throws you. Something doesn't like walls, but then it does like the work of hunters – or at least works in concert with them. What's that mean? Does that which works against walls favor hunters?
And isn't the work of hunters, killing? Is the suggestion here that destruction is easy, while building is hard? It's so easy to destroy something, but so hard to build it.
I have come after them and made repair
Where they have left not one stone on a stone,
But they would have the rabbit out of hiding,
To please the yelping dogs. The gaps I mean,
The hunters here are capricious and destructive. We see the hunters here off after their prey, literally tearing at the wall to please their dogs. So, again, these hunters are really in accord with whatever that force is which constantly brings down this wall.
To please the yelping dogs. The gaps I mean,
No one has seen them made or heard them made,
But at spring mending-time we find them there.
The emphasis here again is on the mysterious nature of this force that just doesn't like walls. Yet something new has crept in here, the use of we – and the idea that this we is something that is working against this force that always works against the wall. Who is this we? What is this counter-force?
I let my neighbor know beyond the hill;
And on a day we meet to walk the line
And set the wall between us once again.
There so much ambiguity and irony here. We have this destructive element that always works against the wall. Then we get this positive energy of two men cooperating in an attempt to mend the wall. That is, they are doing something positive. They are fixing this poor old wall that's been assaulted by nature, time, and even hunters. There's something very redeeming about the mending of the wall. But there is also heaps of irony here. As the mend mend the wall, they are placing it between them!
This image is so potent with so many different ways to think about it. Injecting my own bias here, I think of the way tradition is something that protects us – something we mutually have to work together to support – and yet in a sense often separates us. I'm drifting away from the poem now … but I think we can see how marvelously this poem suggests so many different deep and philosophical issues. Does the wall represent tradition – is mending the wall a metaphor for the upkeep of tradition?
We keep the wall between us as we go.
The irony! They are working together – the wall keeps them together in their task and at the same time, it keeps them apart. Does this image reveal some deep truth about our existence? If so what?
To each the boulders that have fallen to each.
Each takes his share in the burden of mending the wall, according to what fate has chosen, right? One of them doesn't gripe and say, I've more rocks then you, that's not fair. Nope, they just mend what has been allotted to them without suggesting it could be unfair. This is often the way tradition falls on our shoulders, it favors some of us while harming others.
And some are loaves and some so nearly balls
We have to use a spell to make them balance:
'Stay where you are until our backs are turned!'
This task is at least somewhat mystical. That is, there's a bit of mystery in how they manage to accomplish their task. It takes luck and fortune. It takes a little bit of magic.
We wear our fingers rough with handling them.
Mending the wall is an arduous, difficult task. It is a continuous, yearly labor.
Oh, just another kind of out-door game,
One on a side. It comes to little more:
There where it is we do not need the wall:
He is all pine and I am apple orchard.
My apple trees will never get across
And eat the cones under his pines, I tell him.
Now the question comes – why make the effort? To what end? We're now giving an existential question about purpose … this is often the case with old traditions. Sometimes we carry on a tradition even though we no longer understand it – we've forgotten what problem it solved – or we fail to see how that problem could even exist in the present world.
Think about it. There is a problem. People develop a method for dealing with the problem. This becomes a tradition. The problem goes away, and stays away for so long, people begin to think the problem no longer exists. They then jettison the tradition … but then what happens?
I guess it depends … maybe the problem returns, and people now see the importance of the tradition. But perhaps that's not always the case. Perhaps their comes a time when we need to let go of certain traditions.
He only says, 'Good fences make good neighbors'.
What's this mean? It makes good neighbors because it drives them together every year to fix the fence? Or because there will be unintended consequences if they don't mend the wall? I think the statement here by the neighbor is meant to be suggestive without really resolving the issue of why the wall must exist.
Spring is the mischief in me, and I wonder
If I could put a notion in his head:
Spring, nature, time, change … note there is an analogy here between the force that brings the wall down and the force that puts this thought in his head. Indeed, they might be the very same force.
'Why do they make good neighbors? Isn't it
Where there are cows?
But here there are no cows.
Before I built a wall I'd ask to know
What I was walling in or walling out,
And to whom I was like to give offence.
Something there is that doesn't love a wall,
That wants it down.' I could say 'Elves' to him,
Here the narrator frames his question in terms of wanting a justification for the wall – but like so many traditions the problems they solved for us are often lost in time. Naturally, caprice causes us to question them, then perhaps if we can find no answer, we jettison them at our own risk – to see what might happen. Forgive the pun, but some of us take the bridge less chosen and jettison the tradition. 😉
That wants it down.' I could say 'Elves' to him,
But it's not elves exactly, and I'd rather
He said it for himself. I see him there
Don't you love this? Some mysterious, capricious force, that works with hunters and plants mischievous thoughts in heads, works to bring down this wall. And now this force is playfully compared to elves – naughty fairies from the woods. Perhaps this is all just supernatural rot – is it something modern man must contend himself with?
He said it for himself. I see him there
Bringing a stone grasped firmly by the top
In each hand, like an old-stone savage armed.
He moves in darkness as it seems to me,
Not of woods only and the shade of trees.
This is the denouement of the poem, I think.
It's as if this neighbor, too, represents another mysterious force, something primeval and potentially even dangerous. That is, just as at the beginning of the poem we were confronted with this capricious and mysterious force that brings things down, we now learn that here, too, the force that counteracts it is just as mysterious, enigmatic, and unknown – if perhaps less capricious, potentially more dangerous.
Is this the force of tradition? Is it the force of holding on?
He will not go behind his father's saying,
And he likes having thought of it so well
He says again, "Good fences make good neighbors."
So we're left with two interwoven mysteries, that which changes, and that which fights against change. We're left with the eternal question, when to hold on and when to let go. When to give into change, and when to fight it.
So even though on the surface Mending Wall by Robert Frost appears to be a simple poem about two men mending a wall, its implications lead us to very deep questions about our very existence.
Okay, my intent here was not to offer a summary of Mending Wall by Robert Frost, nor a critical analysis of Mending Wall by Robert Frost, moreover I don't claim to know the official meaning of Mending Wall by Robert Frost. Instead, I just shared my own impressions of Mending Wall by Robert Frost in the hope that you the reader could form your own interpretation.
Please share your thoughts. What do you tink about the symbolism and imagery of mending the wall? What do you think about Robert Frost's tone? Is mending the wall a metaphor for something deeper in your opinion? Please speak up!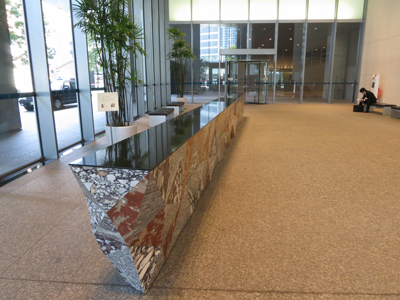 If you enjoyed this post, Mending Wall by Robert Frost, then you might also enjoy, Delight in Disorder by Robert Herrick.