Scarecrows are a wonderful topic for a poem. While you might be thinking of that dark knight villain in Gotham's Arkham with his toxins of fear or perhaps Dorothy's wonderful friend in the land of Oz—plain old scarecrows are also worthy of your poetic imagination. Do you have any idea how long scarecrows have been among us? We think that it's time for a bird-scarer ballad or perhaps a hay man haiku. For now, we share with you our own brand of original free verse scarecrow poems. You'll find them only at Shadow of Iris!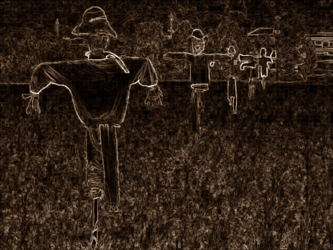 The Scare
by Tattie Bogal
The scarecrow caught our youthful attention
on the first day that we saw it after school—
and we conspired then and there,
to steal a closer look.
With the setting sun gleaming in our eyes,
we snuck into old farmer Dooley's field,
and as unobtrusively as we could
we made our way out to the dark silhouette.
We had noticed the crows from the road,
but seeing them all gathered around the scarecrow,
up close now, completely unnerved us—
the numerous crows, themselves, shifted uneasily.
Why they had congregated around the scarecrow,
we could not say—but we immediately noticed
that the detail put into the making of this straw man
went well beyond the normal call of duty.
He looked to be made of old clothes, gloves,
and gunny cloth—and from the bits of hay
that stuck out here and there from his collar and cuffs,
we gathered he must have been stuffed with straw.
Yet even so, old farmer Dooley had crafted his effigy
into such a superb mold, that not only could we
make out knees and elbows but thick gloved hands—
everything fit into just the right proportions.
Only the head was out of place—an old burlap sack
which instead of painted eyes, had dark hollow holes
that had been cut into the linen bag—there was no nose,
and the mouth was merely a reddish brown smear.
Even as we watched—the number of the crows
gradually began to increase—and some of them,
as if mustering up a bit of courage, drew ever closer,
until finally one big crow flew to the hay man's shoulder.
We froze as we watched it nimbly hop to the head,
and then begin to peck inside the hollow hole
that was intended to be an eye. We gasped
when it pulled out a bloodied eyeball and swallowed it.
Just then we heard old farmer Dooley yelling,
and we turned to see him running toward us
with a long pitchfork in his hands—we jumped,
and immediately started to run away from him.
Once safely away from the farm, between gasps
of breath, we discussed what we must have seen,
and decided with the sun playing tricks on our eyes,
it must have been a large beetle or some other insect.
It wasn't until the end of the week, when the scarecrow
had begun to stink, that the neighbors complained.
Following this, the sheriff went out to the rundown farm himself
to investigate the source of the putrid smell.
The next day, the story swept our school like a wildfire,
the scarecrow had not been a scarecrow at all,
but old farmer Dooley's cousin that had gone to visit him—
why old farmer Dooley had murdered him, none could say.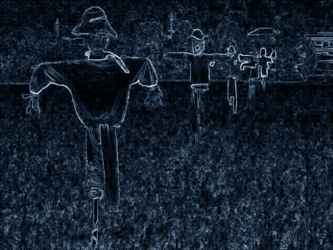 Idolatry
by Murmet Mawpin
i
Late at night
when no one else was around
Margaret would stand in the field
frozen with her arms spread out
and fulfill her secret fantasy
of being a scarecrow.
ii
Judith's affair with the scarecrow
was a close guarded secret,
and she felt certain
that if anyone were to find out,
her reputation would be ruined.
iii
I want to be a scarecrow
out in an empty field
with a breeze blowing gently
through my yellow hair of straw;
on my arms I'll give the crows a rest,
and corn, I'll feed them from hands—
at night when no one is around,
I'll climb down from my pole
and under that grand old moon
I'll dance a jig or two
as you have never seen.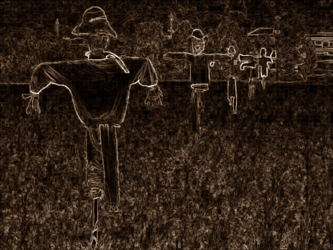 Still Life
by Kakashi
Life has frozen around me,
and there isn't a sign of movement.
It's a new form of life—
still life,
scarecrow life,
everyone is a scarecrow.
This is what the world will look like
when the bomb explodes—
you frozen in eternity
with mouth painted shut,
one leg swinging back,
arms in a flutter,
all ready to topple over
and burst
into a thousand flames
at the last moment.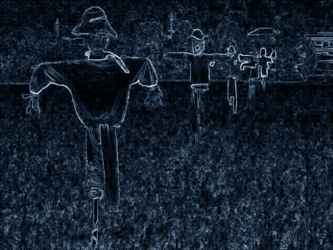 Scarecrows only move
when you aren't watching them.
— unknown
We hope you enjoyed our poems, and that perhaps they will inspire you to write your own trampy triolet. Don't forget to subscribe to our poetry updates, so that you don't miss a poem!