What could be better than spooky poem about a skeleton? Literature is scattered with tales of animated bones, and surely we've all seen fantasy films with armed undead skeletons. The image of a skeleton in a poem can among other things represent depletion, death, or secrets. It's a wonderful image to play with, while you write a ballad about bones or a couplet about cartilage. Here we present four of our own original gothic poems. We hope they make you both laugh and shiver.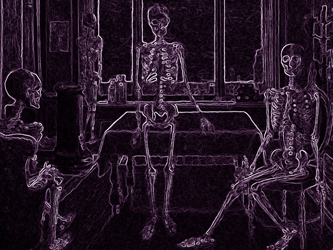 Chatter
by Polly Morfuss
The four armless and legless mannequins
had been left in storage for a long time now
in the garage owned by the odd and reclusive artist.
During the day they were mostly silent
but at night they would whisper to a skeleton
who had been hung in the corner, boasting,
that if nothing else at least they still had their good looks.
On most nights, the skeleton would simply ignore them.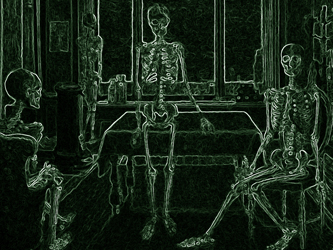 Skeleton Dance
by Isabel Tolling
It's a rigid framework
that provides protection—
structure surrounded by skin
to encloses vital organs—
attachment points for muscles
that grant leverage—
bones, source of our blood.
You are in a long dark tunnel
with flashing green lights at the end
leading you to a large chamber—
an auditorium, where on a stage
a tall human skeleton dances.
You hear the sound of bones on wood,
a grating sound and a clip-clop, clip-clop.
It's a wild frenzied dance,
hot and dry without sweat.
Both fused and individual bones
are supplemented by ligaments, tendons,
and cartilage; a scaffold to support organs
protecting brain, lungs, and heart.
You see thin translucent strings.
This skeleton does not really dance
for each move is just a pull of a string—
It's all just a clever trick,
a marionette that knows the clog—
so you follow the lines up into the shadows
to find the masterminder and his control bar—
there you see yet another skeleton
with empty eye sockets that glow green.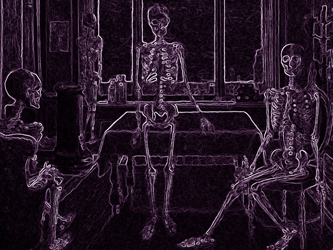 Animated Shopping
by Charlie Tann
Skeletons could care less
if they drop jars of jelly
onto supermarket floors
after all, what's broken glass
to a skeleton?
Skeletons on moving stairways—
how they love to go down the up escalator.
Scraaaawch—
that's the the sound of skeleton feet
slipping against grooved metal.
Krowng'g'ch—
that's the the sound of skeleton feet
getting stuck in the treads.
Skeletons at the magazine rack:
shrwip shrwip shrwip,
how they love to rifle through
the glossy pages with their bone dry fingers,
looking at nude pinups and fantasizing about flesh.
Skeletons are dangerous with shopping carts
rushing up and down the aisles;
kwooruk is the sound they make
when they try and stop with their heels—
but sometimes they're not fast enough
and a friend falls to pieces.
This store has a Chinese delicatessen,
and it's always full of skeletons.
They order empty bone white ceramic plates.
They tear apart their disposable chopsticks,
and they make noises with them:
clatter-clatter, clatter-clatter
clatter-clatter, clatter-clatter.
Then they stop and look at one another,
and it's their teeth that clatter next.
I once saw a husband and wife skeleton shopping together.
The husband kept picking up different colored shirts
and holding them to his rib cage. Each time, his wife grimaced
(she was always grimacing). Finally there was a whisper,
it doesn't matter what you wear, you'll still be a skeleton;
they left store, and I haven't seen them since.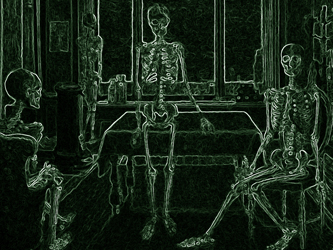 Bones and Cartilage
by the Eclectic Poet
1
Why would you want
to be a skeleton, he said.
That's just stupid. After all,
who feels sorry for skeletons?
2
A typing pool of secretary skeletons,
they type on keyboards,
dry bony clicks against plastic—
screeeeeech, click. click.
scraaatch, click. click.
They're fast typists
but sometimes their fingers slide,
and they hit the wrong key.
3
An audience of skeletons that clap their hands.
It makes a scraping sound—
like fingernails on a chalk board.
All the while they clatter their teeth
until I'm sure there's a fly
buzzing around in my left ear.
4
Skeletons like to hear about scandals—
they love to watch them on the TV.
They enviously and greedily want to know
all about blemishes on the skin—
sclerosis, eszema, warts, carbuncle, hives,
or even just tiny tales of ringworm.
5
I'm stopped by the police.
When they step out of their patrol car
I am surprised to find out that they are skeletons.
They handcuff me and push me down.
My face bites cold wet grass,
then they leave me there and drive off—
skeleton cops just don't care nothing for you,
if you've got flesh.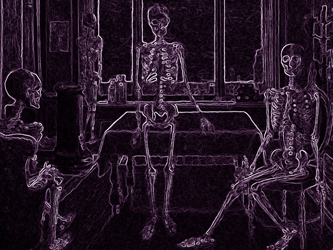 If you can't get rid of the skeleton in your closet,
you'd best teach it to dance.
— George Bernard Shaw
We hope you really enjoyed our poetry. We hope it might inspire you to write your own skeleton sonnet. In the meantime, don't forget to subscribe to our poetry updates!