Shadow of Iris presents an original poem by Paul Bearer. You won't find it anywhere else. The Taj Mahal is the backdrop metaphor for the poem, and thus its title. It's a poem dealing with the loss of a loved one. May the poem help expand your heart and understanding about loss.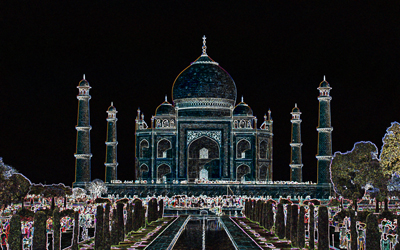 Taj Mahal, a poem
by Paul Bearer
I sit here alone and in the dark,
with my hands folded, staring at the floor.
I can't see, but I'm trying to understand,
why?
Why did you have to leave me?
You wrapped it all up, and you took it with you.
Baby, don't you see, you were my whole life?
I'm sitting here, just asking,
again and again, what was it I did?
Or was it something I didn't do?
Were you just bored?
Did you find someone else and were too scared to leave?
Was there something you couldn't tell me?
Oh, God, you could have told me anything—
I'd have listened, I'd have forgiven you,
didn't you know that?
I want to build you a Taj Mahal.
I do, I really do.
It'd be impossibly white—
an exquisite beauty set against the pale blue sky.
You'd see it across the long fountains
with its massive round dome
and all those fragile minarets stretching up.
It'd all be so impossibly perfect.
Yet, how can I, and by what right?
Baby, you never gave me any say in this,
you never asked how I thought about it—
you just ran away, and this time forever;
and I'm blaming myself everyday—
You know if I could, you know I would,
I build you a Taj Mahal.
I'd take our love and I'd transfix into stone
for all time and for all people to see.
I'd hire twenty thousand workers,
and I'd work them day and night
for seventeen years …
I'd build the most beautiful mausoleum
the world had ever seen.
They'd come from miles away,
they'd come from all around the world,
just to see how much I loved you —
the poets would write poems about us, baby,
but even then, this Taj Mahal,
it'd pale in comparison to you—
cold perfect stone can't replace hot flesh,
not ever … baby, I want you back.
But, baby, you took yourself away from me,
you took yourself away, forever,
and now all you leave me with is a haunting sense
that I let you down …
Couldn't you have just told me,
couldn't you have just said,
what it was that got you down?
I'm telling you, I'd have built you a Taj Mahal,
I really would have …
it's just that now, nothing makes sense anyone more,
I'm just struggling,
just struggling trying to say good-bye.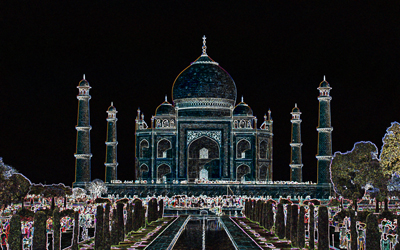 "Marble, I perceive, covers a multitude of sins."
― Aldous Huxley
We do have to wonder about the Taj Mahal. So much effort put forth to memorialize a person — is it really how we best remember someone? We hope you enjoyed the poem above. Don't forget to subscribe to Shadow of Iris so you don't miss our next original poem!