Who doesn't love riding a train? Open the window and stick your head out, feel the wind rush against you, but watch out for the ashes! Here are two transporting poems that will lead to a new horizon just around the bend. They are original poems you'll find only here at Shadow of Iris. It's time to get all on board for some veering verse!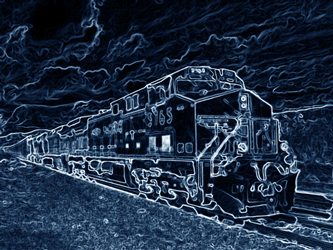 Nymph on a Train Poem
by Justin Thyme
Dreams coalesce
On clouds that hover overhead;
I see you there on the train
And I am falling in love
Over and over and over again.
Life's tragedy
Is I'll never get so near to you
As I am now,
You will always be out there
And I will never know where.
The natural tint of your skin,
The carefully crafted bobbed hair,
Eyes wide, sentimental and sad,
Another world, a pool
Of dreams and memories and history;
Let me fall in and drown
Deep down there.
On the crowded train
Each body is pushed up against another
A tight fitted crowd, tepid and humid,
And you so close
I can feel your heat;
When the train jostles
You fall into me
With the slightest of shy smiles
As you glance in my direction
Then look away and down,
Your lips still coy
As you pretend
I'm not there.
This close,
Yet worlds apart;
The train stops;
The doors slide open;
The cool air rushes in;
You slip out with the stream of passengers
And leave me behind
With nothing but
this memory.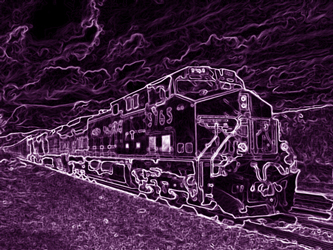 A Man on the Train Poem
by Paul Bearer
The man on the train screams
and no one sees him.
A tired business man
straightens a wrinkle
in his newspaper
and reads on.
A uniformed school girl
adjusts her earphones
slightly
and hums to the music.
An older woman
fidgets with bulky shopping bags
to ease their weight.
A college student
turns the page
in a paper back novel
and yawns.
A little girl sighs
and looks out the window
bored;
her mother pats her head.
There is no shortage of faces.
A man on a train screams
and no one sees him.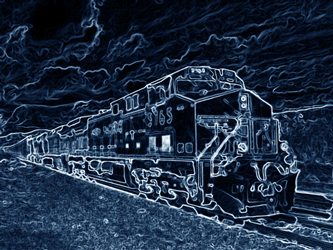 Have you seen the bush by moonlight, from the train, go running by?
Blackened log and stump and sapling, ghostly trees all dead and dry;
Here a patch of glassy water; there a glimpse of mystic sky?
— Henry Lawson
Did these poems about trains take you for an enchanting ride? We certainly hope the did! Don't forget to go to the side bar and follow Shadow of Iris! If you don't you might miss our next thrilling poem!